Hello lovelies!
Yup. I am still very much alive and kicking! My two weeks leave ended yesterday :( Had to forced myself to get up at 7am to go to the office yesterday. I even forced kesayangan to get up early and go to his office early (eventhough he can come in and out of his office anytime he likes). As predicted, hundreds and hundreds of e-mails were already waiting to be read and answered. I am still in the middle of reading the mails and had to take a short break from reading it, hence, I blog :)
So anyways, yesterday I got a call from Redmummy during lunch time(sorry kak, masa akak call 1st time tu I was driving, tak dengar) asking me and kesayangan to come along to watch Cuci The Musical 2 at Istana Budaya. Pucuk dicita ulam yang mendatang kak! Of course I said yes(after confirming it with kesayangan la, isteri mithali pleaseee). Me and kesayangan have never been to Istana Budaya before and we have never watched musical theatre together. And how can you say no to Cuci The Musical? I mean come on, Afdlin, Hans Isaac and Awie together on a stage? Confirm gelak sampai pecah perut punye beb! How can you say no to that right?
And I was right, the show was fantabuloussssssssss! Kelakar gile-gile mampus! Sangat-sangat bestttt! Kesayangan was shouting for Awie inside the theatre (kata die hard fan Wings kan), but seriously he has a great voice and sooo damn funny I tell you.
The show started quite late and ended late (around 1am). Me and kesayangan didn't wait for the photo session as kesayangan has to leave for Lumut at 7am today. Tapi hari ni macam rasa menyesal pulak coz tak tunggu amek gambar dengan Hans Isaac :(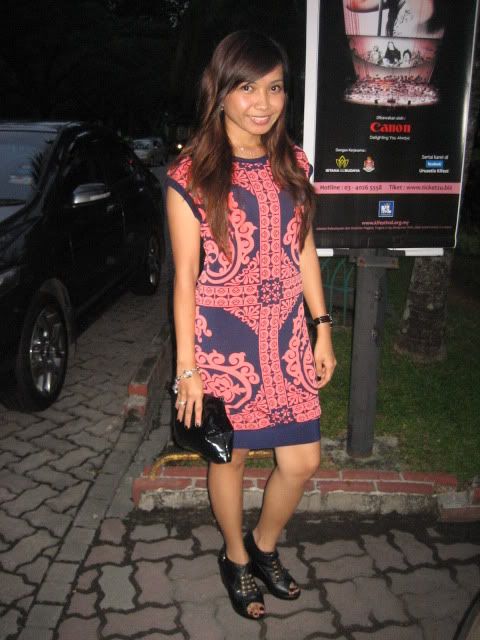 me. dah gemok :(
dress: bought in bali, charm bracelet: Juicy, shoes: online, clutch: misc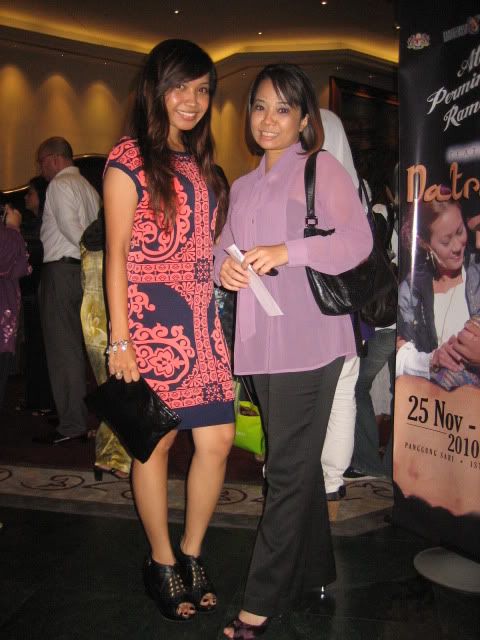 me with Redmummy. Thanks kak for the tix!!