Hello darlings,
Yup, it has been a while since I last updated this blog, busy tu toksah cakap la kan...nak tido pun tak tentu hala..
Anyhoo, last weekend I had my last call celebration as a 'single lady'. Hehehehhehe. Million thanks to my dearest friends who pulled it together in such a short time. Thank you for the veil, the cake, the super special 'gift' and mostly thank you for your companion and friendship
.
3 of the special ladies I have known for 20 years now(sejak dari darjah satu bolehhh??) and it has truly been a privilege to know all of you.
1 of you I have known since my first semester in Uniten and I can't thanked you enough for your friendship all this while. And yes, finally aku kawen jugak weh! hahahahahha..nasib baik ko tak tunggu aku jalan dulu daripada ko.
And the last lady, whom is soooo freakin tall (I envy you for being able to wear the jumpsuit without looking like a potato sack) thank you jugak, eventhough kenal pun baru 1++ year.. hehehehhe
Thank you for the special nite and thank you for being there to celebrate my few last days as a single lady. After this I will be a married woman, tapi rasanya takkan ada banyak beza kot, we still can hangout together-gether..alim corner aje jawabnye.. hehehe
Our lady in black nite starts with dinner at WIP Bangsar Shopping Centre, great place with great surrounding but I think the food was so-so only (for me lah), probably coz I choose the wrong dish kot (I ordered chicken mango something.. something), couldn't remember the full name of the dish. Kat tengah-tengah ayam tu ada potongan mangga yang besar gila gedabak.. heheheh.. can you imagine eating chicken with mango and cream sauce? Weird huh? So what I did was 'korek' the mangga keluar from the chicken and ate the chicken with the sauce only, barula ok sket rasa dia.
The cake pun so-so aje, dahla they made a mistake when they wrote the words on the cake :( They wrote "go get him WEMAN", WEMAN apekah??? Maybe they thought my name is actually WEMAN kot? (buruk kot nama WEMAN)...We were laughing when we saw the writing. WEMAN pun WEMAN la... lantak la kan... yang penting we had fun! hehehehhe
Later after that we headed to Envie in Changkat for drinks and dancing. Yang tak bestnye mula-mula the DJ pasang semua lagu bosan tahap gaban, but the moment we were ready to head home tiba-tiba back to back lagu best-best je semua *grrrrrrrrrrrrrr bikin hati panas aje! Oklah nanti I will blog about my wedding updates, enjoy the pics :)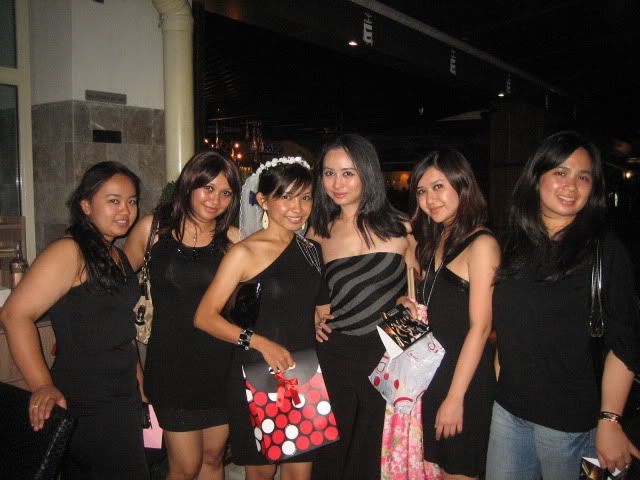 lady in black :)